The Group welcomed the Year of the Ox, the most important occasion for the Chinese community, by distributing more than 1,000 Chinese New Year gift packs to less-resourced families and individuals with disabilities across Hong Kong in collaboration with seven community partners, namely St. James' Settlement, J Life Foundation, Asbury Methodist Social Service, Aplichau Kaifong Primary School, Direction Association for the Handicapped, Kwun Tong Methodist Social Service and Special Educational Needs & Parents Association. Gift packs were prepared and distributed by staff volunteers as well as their families and friends, with each pack containing seasonal and festive items such as canned abalone, dried mushrooms, Chinese sausages, chocolates, egg rolls and fai chun decorations, as well as healthcare supplies including surgical masks.
Christmas was also a time of giving. In addition to the community services by the Tai O Heritage Hotel team, we continued our 16 consecutive years of support for Operation Santa Claus, an annual campaign to extend love and care in the festive season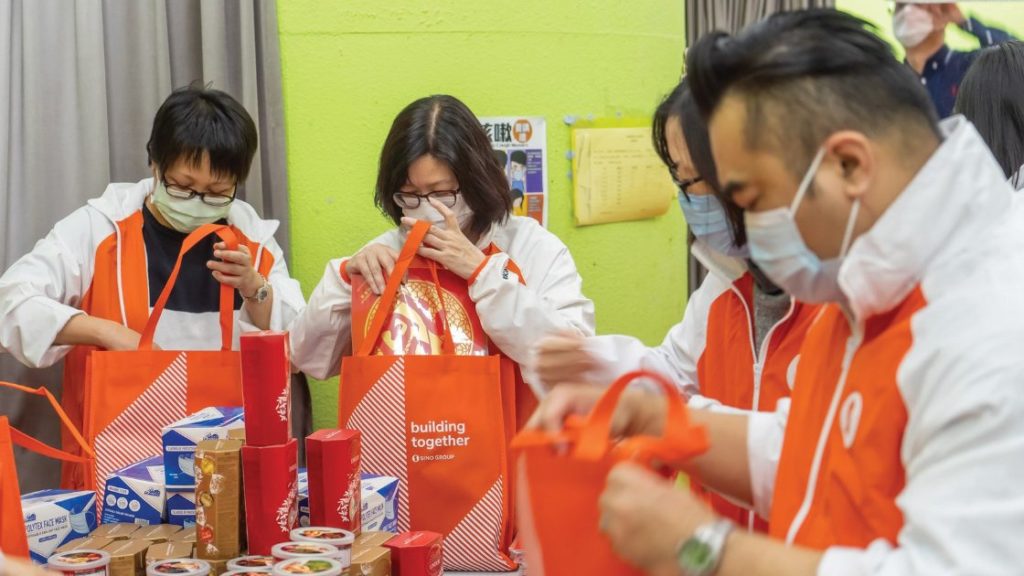 Beneficiaries from The Zubin Foundation, which works to improve the lives of Hong Kong's ethnic minorities, were hosted at Sky Farm at Skyline Tower in last November, where they enjoyed a fun-filled afternoon taking part in a tie-dye workshop led by local creative team Dyelicious and learning more about the indigo plant grown on the farm. In addition to making their own tie-dyed products, the participants also experienced farm-to-table dining, preparing a refreshing and healthy drink using butterfly pea flowers grown on the farm.
In December, we invited ten children from the Hong Kong Children in Need Foundation and their families to join a celebratory Christmas workshop at Hong Kong Gold Coast Hotel. After a tour of the Butterflies and Herbs Garden, the young guests visited the Gold Coast Farm to learn more about the veggies and fruits grown, and went home with their favourite veggies.
The Group continued its commitment to volunteering in 2020, with many colleagues serving the community to spread love and care. During the year, we served more than 23,000 people, with the total hours of volunteer service exceeding 178,000, a record high. The Group together with our foundations also donated healthcare supplies, necessities and festive gifts to support the community in adversity. We would like to express our heartfelt appreciation to all for supporting the community together.