In 2018, we launched the Hong Kong Innovation Foundation, which provides a holistic innovation ecosystem, organising a range of activities and programmes to serve diverse sectors. These include free STEAM education for children in areas such as coding and robotics; family STEM activities through OC STEM Lab at Olympian City; initiatives such as the recent exhibition on Leonardo da Vinci; and the PolyU-HKIF Children Eye Care Project to provide children aged six to 12 with an award-winning innovation that is proven to be effective in slowing myopic progression.
Winning Team Member(s)
Innovation
Prize
Ray Lam, Assistant Maintenance Manager, Sino Plaza
Johnny Chau, Senior Engineer, Pacific Plaza
COOLJET, a jacket fitted with cooling ventilation for colleagues working in hot environments
Champion
Chi-Keung Ip, Senior Maintenance Supervisor
Juliet Yip, Property Manager, Regentville
Smart water pump system using sensors and artificial intelligence to monitor pump conditions, detecting and alerting technical errors
First Runner-up
Sukki Wu, Assistant Manager, Sales Department
Electronic paper to replace traditional paper, enhancing working efficiency in sales events
Second Runner-up
Cynthia Mo, Senior Property Officer, Skyline Tower
Application of the Dr temi robot at Exchange Tower to provide personalised health checks for customers
Third Runner-up
Sino Inno Lab, a sandbox platform for technology companies and start-ups, is an integral part of the innovation ecosystem. Since its launch in 2018, Sino Inno Lab has showcased more than 70 inventions and technologies with more than 40 adoptions.
Another initiative is Sinovation, launched in June 2019 to encourage innovative ideas from staff and convert these ideas into functional prototypes and bring these solutions to life. Winning entries include COOLJET, a jacket fitted with cooling ventilation, which is particularly useful for colleagues who need to work outdoors or in a hot environment; a smart pump system that can monitor the conditions of building pumps; and the introduction of electronic paper to reduce the quantity of printed paper. A Dr temi robot is also being piloted at Exchange Tower to provide personalised health checks for customers.
Supporting academia and aspiring researchers is crucial to the technology scene, and we are pleased to work with the Hong Kong University of Science and Technology (HKUST) on the HKUST-Sino One Million Dollar Entrepreneurship Competition. Entering the third year of partnership, this year's Hong Kong winners have been selected.
The first prize (Champion) was awarded to SPES Tech Limited, a biotech start-up that has developed a photosensitive hydrogel, which has tissue-like properties that simulate a living cell environment, creating more realistic models for biomedical studies and reducing the use of tissue from animal sources.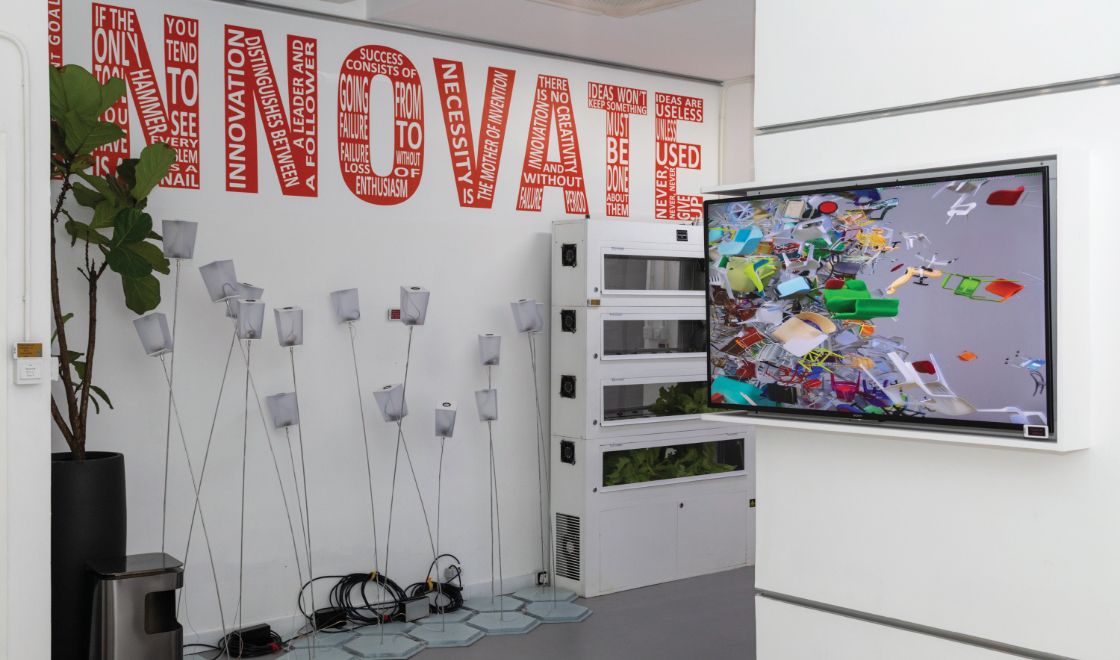 'At Sino, we are committed to supporting innovation and technology as our path to the future is paved with technology. The winning teams of the HKUST-Sino One Million Dollar Entrepreneurship Competition have showcased how technology can improve our lives and create possibilities, especially in the healthcare industry. On behalf of Sino Group, I would like to express our heartiest congratulations to the winning teams on their achievements.'
— Andrew Young, Associate Director (Innovation), Sino Group
The first runner-up (Gold Award) was PhoMedics Limited for a technology called computational high-throughput autofluorescence microscopy with pattern illumination (CHAMP). The technology enables surgeons to check whether cancer cells have been eradicated thoroughly during cancer surgery, minimising the need for further operations. CHAMP is now undergoing clinical trials at Queen Mary Hospital, with plans for trials at Prince of Wales Hospital. The second runner-up (Silver Award) went to LunaLearn Limited for a mobile application that offers scientific guidance on the milestones of a baby's development from birth to 36 months. In addition to the app, the team has designed toys for different growth stages to encourage quality interaction between parents and infants.