North Point rewards the visitor with Michelin-recommended eateries, open-air exhibits and a unique cultural history with endearing relics of the past. Connectivity to Hong Kong Island and Kowloon via the MTR as well as a convenient ferry pier means enjoying its waterfront views is an easy trip from anywhere in the city. Try walking the route below and you'll find some hidden gems.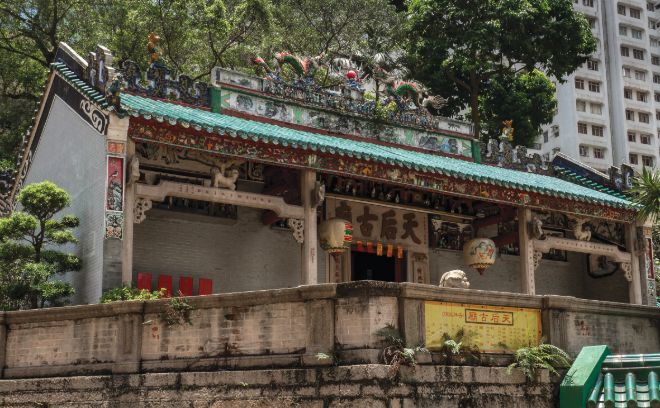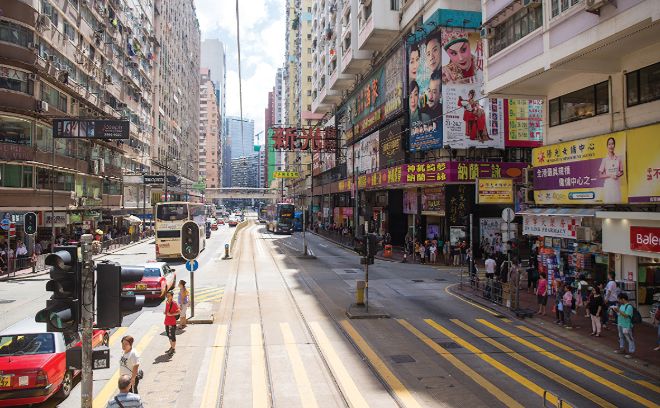 1. Tin Hau Temple
Begin with the scent of incense at Tin Hau Temple, which can be found just east of Victoria Park. The temple — or the temple bell, at least — dates back to 1747, and was constructed by the Tai clan from Guangdong to house an incense burner believed to have been delivered by Tin Hau, the Goddess of the Sea. The clan still manages the current iteration, built in 1868 and featuring intricate stone carvings of dragons, pearls and ceramic figurines referencing Chinese operas. Fisherfolk traditionally worship Tin Hau to seek protection from the sea, but other deities are also represented at the temple, with side altars for Tsoi San, the God of Wealth; Kwun Yum, the Goddess of Mercy; and Pau Kung, the Lenient Judge of the Underworld.
2. Electric Road
Vestiges of North Point's history can be found in its street names. Electric Road is named after Hong Kong's second power station — located at the intersection with Power Street — which serviced the city from 1919 until 1978, when it was decommissioned to make way for the City Garden development. Similarly, nearby Tong Shui Road ('Sugar Water Road') references Fujian-born businessman Kwok Chun Yeung's idea to build a sugar factory in the area. The modern Electric Road is the site of much local infrastructure and points of interest, including Causeway Bay Market, the former Royal Yacht Club headquarters (see Oil Street Art Space below), vintage tong lau tenement buildings and the North Point Government Offices, all passed by the 1920s-style trams that glide through regularly.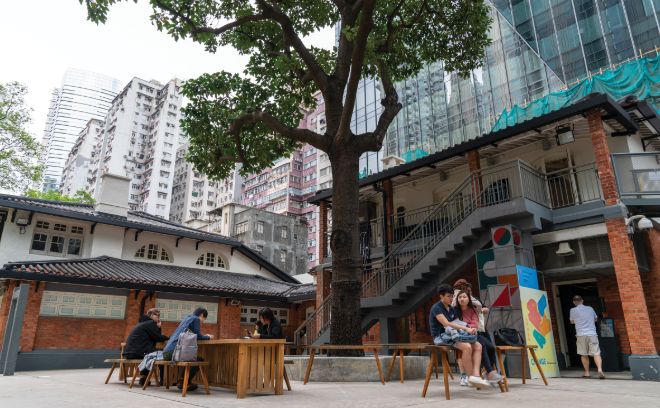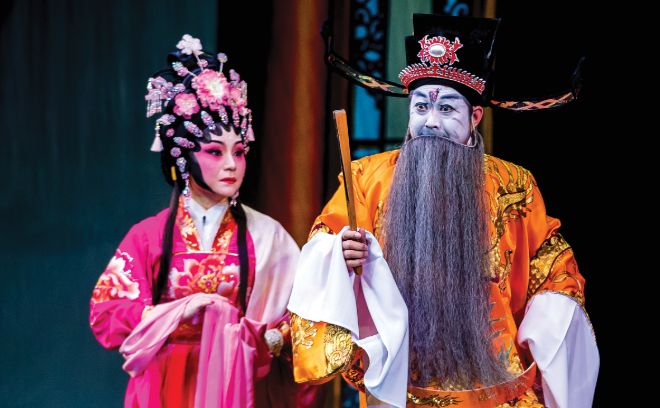 3. 148 Electric Road
Towering above Electric Road, this 160-metre high-tech tower houses 26 storeys of Grade A office space as well as two retail levels, spanning 20,000 square metres of space in total. Designed by award-winning Hong Kong firm Andrew Lee King Fun & Associates, its glass exterior ensures it seamlessly blends into the sky and sea, making for a magnificent backdrop to the cityscape.
4. Oil Street Art Space (Oi!)
Further down the street is a Grade II historic structure built in 1908 as the former headquarters of the Royal Hong Kong Yacht Club. Now transformed into an arts and cultural exhibit space by the Leisure and Cultural Services Department, it seeks to facilitate creative collaborations, as well as open dialogues between artists and the community. Working closely with its sister organisation, the Hong Kong Visual Arts Centre, the space has hosted everything from vintage film showings to neon light exhibitions and forums about the creative arts around the globe, with events often based on community proposals.
5. State Theatre Building
Opened in 1952 and known as the Empire Theatre until 1959, the State Theatre was one of old Hong Kong's most glamorous cinemas. The building is unique in Hong Kong for its arch bridge roof structure, which allows for a column-free auditorium. In its old life, its 17-metre cinema screen, diamond-shaped ceiling and 1,400 seats saw many film showings and live performances, including by the legendary Teresa Teng. Seen from street level, its curved façade showcases another unique feature: a relief painting of Diaochan, one of ancient China's Four Beauties. The building has ceased to be used as a cinema, and was designated as a Grade I historic building in 2017.
6. Sunbeam Theatre
Founded by a group of Shanghainese immigrants in 1972, Sunbeam Theatre has been a long-standing favourite of Chinese opera devotees. The theatre witnessed the rise of renowned opera artists such as Chan Kim Sing and Nam Fung; now, the neon billboards on its façade advertise a range of events. True to its working-class founding, it was distinguished from other public performing venues by its 'Sunbeam culture', which allowed audiences to visit performers backstage or snack while watching the show. The theatre was threatened by rising rents in recent years, and fortunately saved by a white knight, who allowed its artistic heritage to live on.
7. Pacific Palisades
Situated among the lush hills of Mid-Levels East is the 17-tower residential development Pacific Palisades. The property comes with an impressive set of facilities, panoramic views of Victoria Harbour and proximity to schools, and enjoys excellent accessibility. The development is popular with international residents, including a large Japanese community; in fact, it follows the Japanese model of systematic recycling to aid its environmental friendliness.
8. Choi Sai Woo Park
Just next door to Pacific Palisades is Choi Sai Woo Park, a former reservoir turned neighbourhood hub that provides green lungs for the area in addition to sports and entertainment facilities.
9. Tin Hau Temple Road Fragrant Flower Pathway
This 310-metre pathway linking Tin Hau Temple Road to Choi Sai Woo Park and further to natural waterfalls and the Tai Tam Country Park is also known appropriately as Aroma Walk. The path's name originates from the variety of shrubs, trees and fragrant flowers dotted along it. As you make your way upwards, keep an eye out for Arabian jasmine, orange jasmine, osmanthus and Chinese privet, all flowering and fruiting during Hong Kong's warmer months of March to December. In addition to their pleasing smell, all can be professionally picked for medicinal purposes, infusing as tea or for use in essential oils.