For over four decades, Forum Restaurant has been serving fine Cantonese cuisine in Hong Kong, with patrons coming from both Hong Kong and overseas. With three Michelin stars, the 'King of Abalone' serves the famous Ah Yat braised abalone and offers diners classic Cantonese dishes, some with a twist.
Founder Yeung Koon Yat (fondly known as 'Yat-gor') came to Hong Kong from Guangdong Province as a 16-year-old lad with only HK$50 in his pocket when he started working in a restaurant in Kowloon. There, he discovered his passion for cooking, and after saving up enough, he started Forum Restaurant with several friends in 1974.
At first, the restaurant served home-style Cantonese dishes that were similar to other Cantonese restaurants of the time. However, in the late 1970s, many restaurants were struggling amid the sluggish economic environment. Fortunately, Mr Shek-Wing Tam, the respected columnist and gourmet, gave Yat-gor some suggestions for how to best cook the quality abalone he was sourcing. 'After years of trial and error, we were finally able to create a unique abalone, which has become a classic dish that represents Hong Kong and enjoys fame overseas,' says Yat-gor.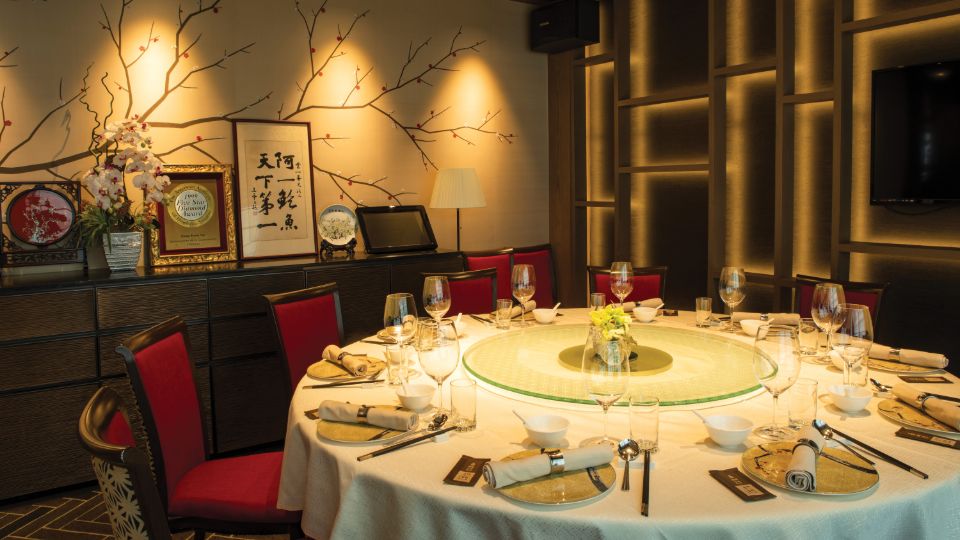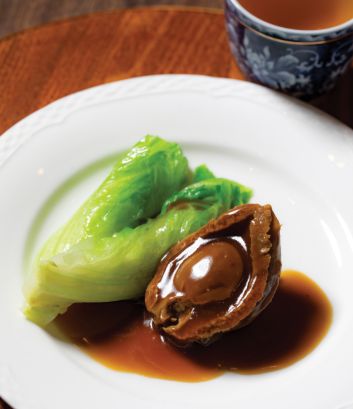 In addition to abalone, Forum Restaurant has several signature dishes that keep loyal diners coming back. The lean and succulent sweet and sour pork with an innovative twist of dried tangerine peel is a firm favourite. Yat-gor has also perfected crispy fried chicken, made using a fresh whole chicken marinated and air-dried before having hot oil poured over it until tender and juicy inside and golden-brown outside. The braised oxtail, inspired by an oxtail in red wine dish, is made with traditional Chinese spices and chu hou paste, a flavourful fermented soya bean paste. For seafood lovers, each mouthful of the baked stuffed crab shells with dried scallops offers the sweetness of the crabmeat and the briny umami of the scallops. By listening to customers, Yat-gor perfects the dishes.
To Yat-gor, the recipe for his success is straightforward. 'We always focus on the quality and freshness of our ingredients — we try to retain their original colour, taste and shape because we believe tradition can keep attracting customers' appetites, and our service makes guests feel at home,' he says. 'We also try to personalise our services. After the meal, we record our guests' preferences, and we prepare surprises for guests on special occasions.'
The culinary preferences of Hong Kong diners have evolved, and so has Forum Restaurant. With diners often letting the 'camera eat first' by taking photos to post on social media, the chefs put more thought into the presentation of the dishes. And with growing health consciousness, demand for vegetarian dishes, organic and sustainable ingredients has increased, so the Forum team has fine-tuned the menu while remaining true to its Cantonese roots.
Forum also continues to innovate and explore ways to bring traditional flavours to its expanding range of offerings. Abalones packed in tins and other vacuum-packed delicacies can be enjoyed at home or sent to family and friends around the world. As Yat-gor puts it, 'Customers are not only able to taste our dishes in the restaurant, but are also able to share the delicious dishes with their families and loved ones.'
Forum Restaurant
1/F Sino Plaza
255–257 Gloucester Road Causeway Bay
Braised Ah Yat Abalone
Sweet and Sour Pork with Dried Tangerine Peel
Crispy Fried Chicken
Braised Oxtail
Baked Stuffed Crab Shells with Dried Scallops