One of Hong Kong's most established districts, Kwun Tong is undergoing a major transformation that makes it a fascinating mix of old and new. Treasures await the curious, from traditional temples and shops to picturesque nature walks and a new urban destination.
1. Devil's Peak & Gough Battery
Stage 3 of the Wilson Trail, a favourite path among hikers, takes you to Devil's Peak, whose 222-metre height commands stunning views across Kowloon East and Victoria Harbour. This panorama also made it a perfect military vantage point, and during the Second World War, batteries and redoubts were installed as part of the city's defence measures against Japanese invasion. The batteries and redoubts remain along this beautiful hiking trail as a reminder of Hong Kong's unique history.
2. Lei Yue Mun Fishing Village
The village known as Lei Yue Mun today is an amalgamation of several ancient villages, founded by stonemasons who cut granite from the nearby mountains, an integral part of the local construction industry from the early 19th century to the mid-20th century. The villages were once home to a number of seafront quarries, as well as fishers and farmers. As the quarries closed, the area was gradually filled with seafood restaurants boasting huge tanks of live catch, which is what it's known for today — and which means you can find some delicious local specialities. Walking further to the east along the coastline, you'll find a village with remnants of the old quarries, which are popular among recreational anglers.
3. Lei Yue Mun Tin Hau Temple
Near the village and at the far eastern end of Victoria Harbour is one of the most dramatic temple locations in Hong Kong — on stormy days, huge waves crash against the walls of Lei Yue Mun's Tin Hau Temple. Built in 1753 by pirate Zheng Lian-chang, the temple is also believed to have been Zheng's base of operations. While the original temple was demolished and fully rebuilt in 1953, one can still walk around the temple and appreciate its footprint of natural rock formations. Tin Hau is the traditional folk goddess of the sea, and for her birthday in the third lunar month, celebrations are held for days on end with activities like Cantonese opera and lion dancing.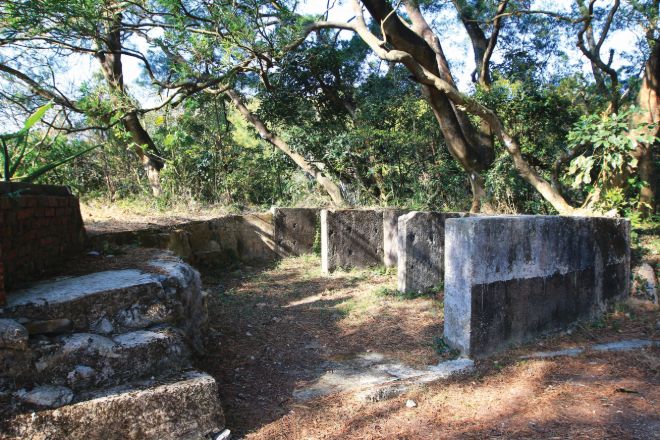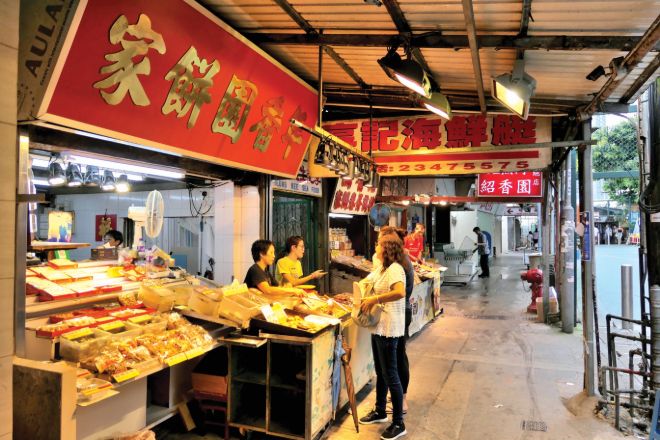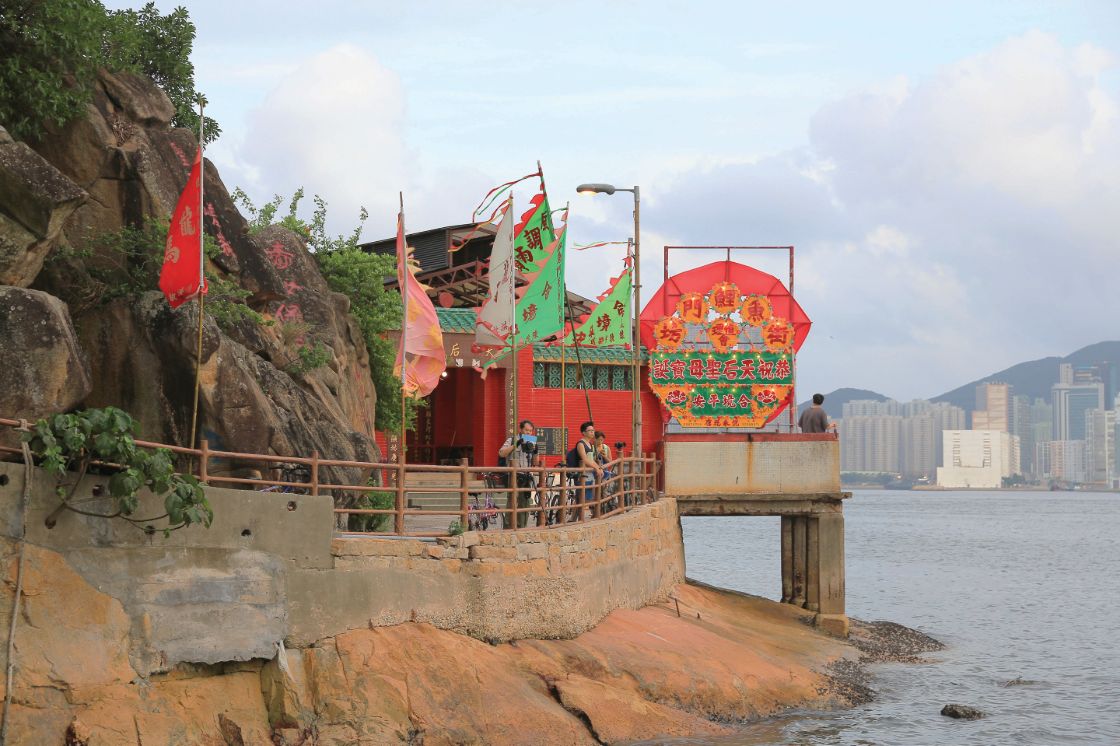 4. Former Royal Air Force (RAF) Kai Tak
RAF Kai Tak was built in 1927, and was in use until 1978 as the base for all manner of aircraft, from seaplanes and land-based planes to helicopters; then, from 1993 onwards, it continued to be an airbase for the Government Flying Service. Three of the original buildings remain, and are currently listed as Grade I historic buildings. Built in neoclassical style with deep, colonnaded verandas, the buildings feature many original details, such as Regency-style ironwork, Art Deco influences in their porches and steps, and wood-panelled doors with Royal Air Force emblems above. The headquarters building is now occupied by the charity Caritas Family Crisis Support Centre, while the Officers' Mess and its Annex Block now house the Hong Kong Baptist University Academy of Visual Arts.
5. Kwun Tong Promenade
Hong Kong's postcard-perfect panorama of Victoria Harbour is best viewed from Kowloon, and Kwun Tong Promenade is ideal for taking it all in. Apart from a timber-decked boardwalk that stretches for almost a kilometre along the coastline, the promenade is dotted with plenty of green spaces. Be it taking a long sunset walk, having a picnic or building some muscle on the outdoor pull-up bars, Kwun Tong Promenade has it all, with a view.
6. Sam Shan Kwok Wong Temple
In most historically Hakka and Chiu Chow communities, you'll find a Taoist Sam Shan Kwok Wong Temple, dedicated to the worship of the Lords of the Three Mountains — the Jin, Ming and Du Mountains in Chaozhou, which represent the Great, Second and Third Lords respectively. This 19th-century version was built in a style typical of the Qing era, and while it has been renovated extensively, key features such as the granite walls, green ceramic roof tiles and auspicious ceramic figurines adorning the ridges remain. A festival of the three deities is held each year on the 25th day of the second lunar month, when the temple becomes a hive of activity, from Cantonese opera performances to rituals such as fortune telling through the throwing of 'moon blocks'.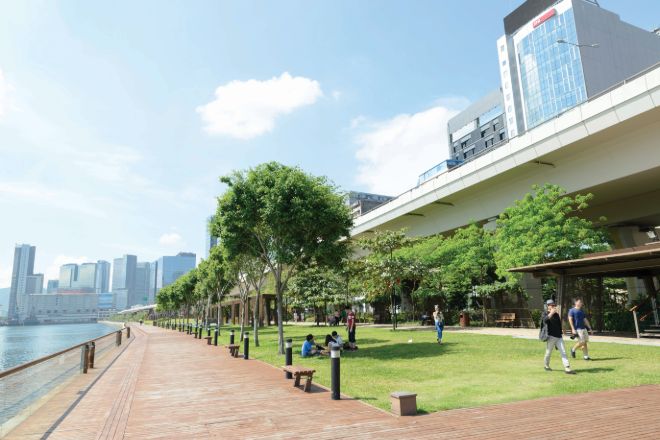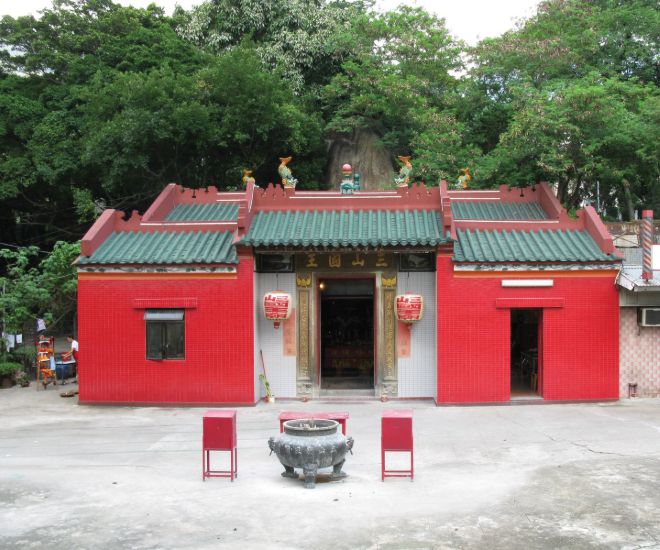 7. Tai Wong Ye Temple
Legend has it that when the Song Dynasty fell, many of its soldiers and officials escaped southward, with a significant portion of them landing in Hong Kong. With them, they brought their ancestral tablets and, according to tradition, a spirit was carried in one such tablet: the spirit of a Tang Dynasty general, whose apparition appeared frequently to provide help to the nearby villagers. Residents of Lok Fu built Tai Wong Ye Temple for the general, and it was relocated to Kwun Tong in 1963. The current temple features many colourful porcelain paintings, most notably the entrance framed by a green dragon to the left and a white tiger to the right, common in Chinese culture for auspicious reasons.
8. Tai Ma Sauce
One of the few artisanal sauce makers remaining in Hong Kong, family-owned Tai Ma is loved by those in the know for its naturally brewed, preservative-free soya sauce, which takes months to ferment under the sun in a method largely unchanged for four generations. Although some Tai Ma products can be found in shops around town, this is the brand's flagship, and it has proudly been serving Kwun Tong locals for six decades. Here you'll find the family's full range of products, from soya sauce to shrimp paste, fermented tofu to preserved plums.
9. Grand Central
Cities around the world are realising the energy that can be released by revitalising former industrial areas — New York's Hudson Yards and London's Coal Drops Yard are two examples. With this in mind, the Hong Kong government established the Energizing Kowloon East Office in 2012 with a focus on Kwun Tong, which has led to an upsurge in contemporary office space and apartments that exemplify the best in modern living. Just a quick stroll from the promenade is Grand Central, a key piece in this revitalisation. With close to 2,000 luxury residential units alongside large green swathes set up for outdoor recreation, retail and a transport interchange that connects with Kwun Tong Station, this mixed-use development is the capstone in the Kwun Tong Town Redevelopment Plan.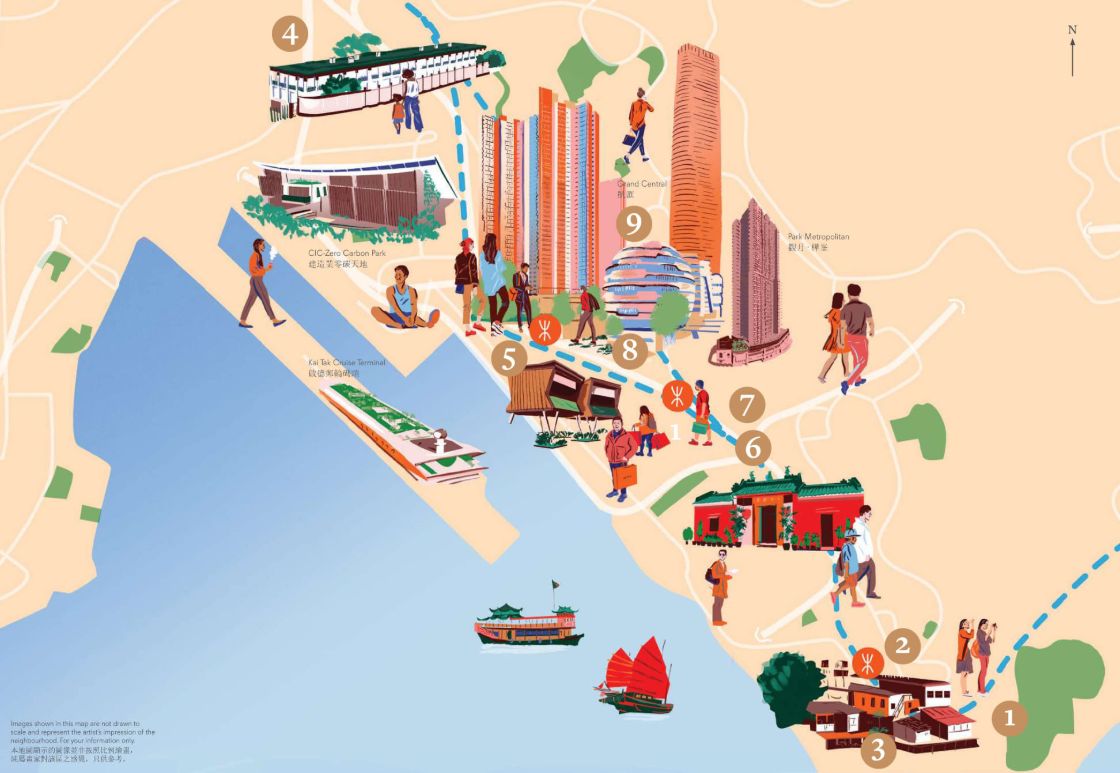 Kwun Tong's ongoing transformation is bringing a smorgasbord of food and beverage options, supermarkets and home product brands.
Brass Spoon Le Jardin
Founded in 2015, Brass Spoon has quickly established itself as a brand synonymous with high-quality Vietnamese street food, particularly the classic pho. The team's commitment to making everything in-house and using only quality ingredients has made them a local favourite, and earned them Michelin Bib Gourmand Awards each year from 2016 to 2020, the city's only Vietnamese restaurant to carry this honour since 2017. Brass Spoon Le Jardin marks a new concept for its location at Yue Man Square, which features an al fresco area facing a garden.
Shop 302, Yue Man Square, 33 Hip Wo Street, Kwun Tong, Hong Kong
INMU Shop
The characters in INMU mean 'world' and 'wood', and for the founders of this Japanese-style supermarket, the sturdiness of wood highlights strength in simplicity and loyalty. This is true to their vision of collecting high-quality, unique products from around the world to bring customers a surprise every time they visit.
Shops 176 and 203, Yue Man Square, 33 Hip Wo Street, Kwun Tong, Hong Kong
Daikin Solution Plaza
Much-loved ventilation, heating and cooling brand Daikin opened its Solution Plaza in Kwun Tong a decade ago, and the welcoming space has recently undergone a thorough renovation. The 270-square-metre space is designed to serve as an experience centre: rather than simply looking at products in a showroom, customers can experience several different types of systems including residential and commercial in spaces that replicate the environments they will be
used in.
17/F Futura Plaza, 111–113 How Ming Street, Kwun Tong, Hong Kong